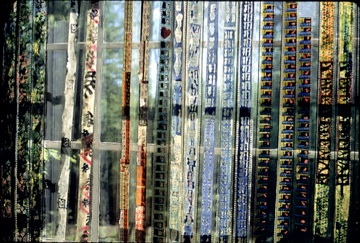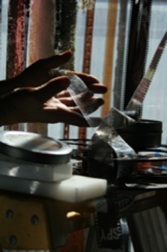 What is this?
Artist Statement:
Title: "Jazz" Transmorphosis
Medium: Film, electricity, lightbox, sculpture, paper, pigment, substrate, digital imaging.
By Donna Cameron
My thinking evolves through the dimensions: 2D, 3D, 4D and time. So these works are made with motion in mind. There is commercial film of many gauges, tape, tools, substrates, found objects, paper, pigment, fiber, selenium and silver nitrate emulsions, and diverse computer technologies.

"JAZZ" Metamorphosis:
Photography and Direct Animation on clear leader (industrial movie film) using traditional analog art and/or digital imaging technologies.
This transmedia work began as a tribute to the painter Henri Matisse. Drawings in this project were done on clear, unexposed acetate 35mm commercial film stock, processed to varying densities for a cohesive progression of base fields in the montage. Matisse's great book "Jazz" was the inspiration for this work. The technological alpha and omega is Cinematic Paper Emulsion, a film process for which I hold a US patent. 2D studies are changed into 3D film sculptures.The 3D films are then brought into timebased transmedia, interdimensional in form and existing as projections in air and space.
The original 35mm filmstrips are often exhibited before light (see above, left). The animation technique is"direct animation". From these filmstrips, I project and build 2D works. Like a music score, which is reborn each time it is performed, TransMedia art work transforms as it morphs through genres of writing, painting, film, photography, sculpture and animation. My fascination with life imaging and time sculpture is thus also performed as communicated. (1) This is an MOS (silent) 35 mm film, with a music video from the 35mm film coupled with original music by Mark Stewart and voice by Andrew Sloan. It is transferred to and looped on DVD, presented on a digital screen/monitor. (2) This is photography as (single frame filmstrips); sculpture with the original filmstrip sculptures lit outside. The images in my film "Jazz" embrace the biomorphic forms of the flora and fauna that I imagine inspired Matisse's cut out classic "Jazz". In one movement, a liquid light silver nitrate emulsion is painted onto the clear film. Objects such as twigs, leaves, cutouts, fern, photonegatives and hair are laid onto the emulsion in the dark. The emulsion is then exposed to the light of a film projector and hand processed. Traditional photo chemicals are traditionally used- a familiar cycle of developer, stop-bath, fix, and wash. This project was supported by three MacDowell fellowships, 1998, 1999, and 2000, and exhibited in NYC at Anthology Film Archives in 2001 and 2004, in the 2005 and 2007 Biennale di Venezia and featured in a 2015 retrospective of my art and films at the Kimmel Center Windows Gallery, New York University. Like all of my Cinematic Paper Emulsion films and moving image works, "Jazz Elegy" is distributed by the MoMA Circulating Film Library.
_____________________________________________
What is TransMedia Art?
TransMedia Art is a collective interdisciplinary genre in which a 2D or 3D material transformative art work is made with a hybrid blend of analog and digital skills, and, finally, releases that work via a time-based medium. The time-base then uses the tools and strategies of web, video, performance, music, film and digital or interactive art to push the boundaries of the traditional 2D imaging tools. This is articulated by the artist's hand, in the public forum and the private studio space. I believe that TransMedia is the genre that best channels the voice of change that expresses the trendings of our time.
______________________________________________